---
THE REALM OF HYPERNOVA
---
Time and space died yesterday welcome the realm of hyper, welcome the bunker.
Archaic concrete carved block, inert and spontanious,

monumental pressure cooker on a mission to the next hypernova.
Rather than utopian or dystopian,

we declare the bunker an heterotopia of purification.
Intoxicated and intoxicating our perception transformed to a bulimic sensitive rave,
voracious till the ultimate purge.

Exploring the notions of art and design between fiction and reality,
the inside and outside,
the holy and the profane,

yet rejecting any doomed concepts from the now to be forgotten world. Toadstools in Versace, ultraviolet props on the walls, beautiful mistakes,

disoriented jet fighter –
the bunker is ready for activation.
There are a couple of old bunkers in Cologne. Left overs from the second world war. Most of them are rotten, unused and forgotten. We had the chance to transform and rearrange one of them into a new art space. Our Bunker is right in the middle of Cologne, next to a railway station. Back in the days it was built to protect the workers of the station.
Nine weeks before the Interior Design Week Cologne 2015 started, designers from various European cities gathered to explore the bunker. We used this special space as a starting point and a central element for the creation of an exhibition concept and its implementation. There were no rules, no limitations, only a common motivation for the creation of a new space. In a workshop, we discussed the fresh sensations and experiences we had in the bunker. Gradually, the conversations formed a picture of a room, that should not function as an ordinary exhibition. We created conditions, developed forms, alanguage and finally a manifesto was composed –
A manifesto of heterotopia.
Heterotopien Places; real places – places that do exist and that are formed in the very founding of society – which are something like counter-sites, a kind of effectively enacted utopia in which the real sites, all the other real sites
that can be found within the culture, are simultaneously represented, contested, and inverted. Places of this kind are outside of all places, even though it may be possible to indicate their location in reality. (Foucault)
The manifesto offered each of us an individual source of inspiration and functioned as a main principle forming the group, the collective to a unit creating a new place.
This project was supported by Sabine Voggenreiter
---
19.01.–24.01.2015
---
VERNISSAGE:
13.01.2020 6PM
ADRESS:
Gold+Beton
Ebertplatz 3
50670 Cologne
Germany
---
---
GRAPHIC DESIGN
---
Karl Frederik Scholz & Max Pietro Hoffmann
http://www.kamiblusch.com, www.maxpietrohoffmann.com

Fotos: Florian Yeh

---
Cracks and holes
Chadia Haddad & Bianca Quasebarth
A desire of security is crashing through the walls of anony- mity. The vacuum of time and space is filled with senses. The membrane of strict norms is bursting through the pressure of craziness. Warmth and coziness is dripping out of cracks and holes.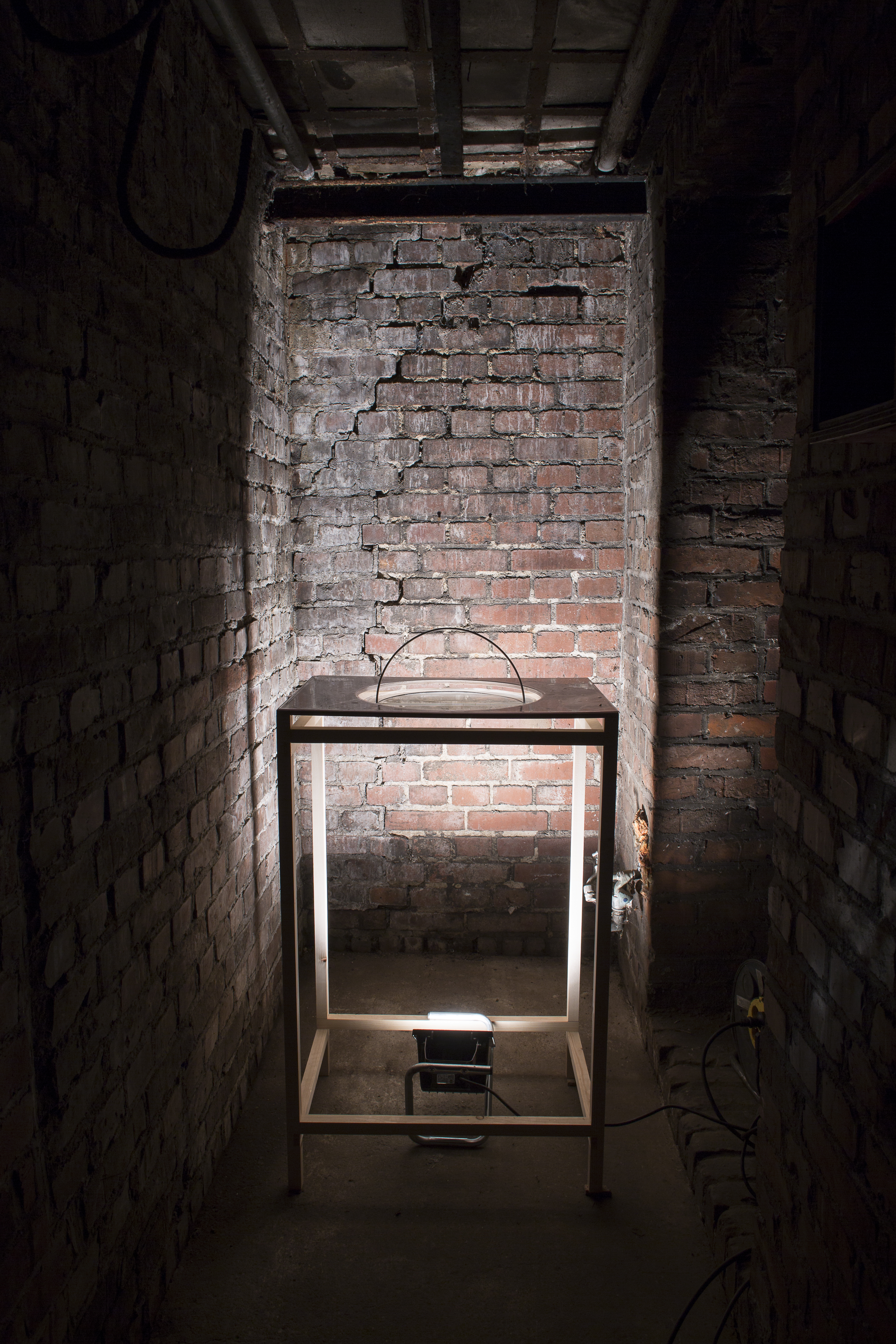 Transience
Chia Wei Wang, Meng Hsun Wu
A door and not a door – Tension of imaginary barriers A world written in water – Dissociation of surroundings An arc and more than an arc – Compression of realm of hyper A heterotopia of purification – Explorations of unknown
---
Rejoice, Prop 1 & 2
Tom Schneider
Diamond life, lover boy. It moves in space with minimum waste and maximum joy. City lights and business nights. When you require streetcar desire for higher heights.
Stellar
Superlife Studio
Stellar plays with our perception. It is made of a new material, physically inexistant, but perceivable thanks to its luminous spectrum. The shape of Stellar is only created by the very fast rotation of a luminous arm around a central axle. Man is able to detect it, because over a certain speed of movement the human eye is no more able to perceive the rotation but sees it as a fixedobject.
---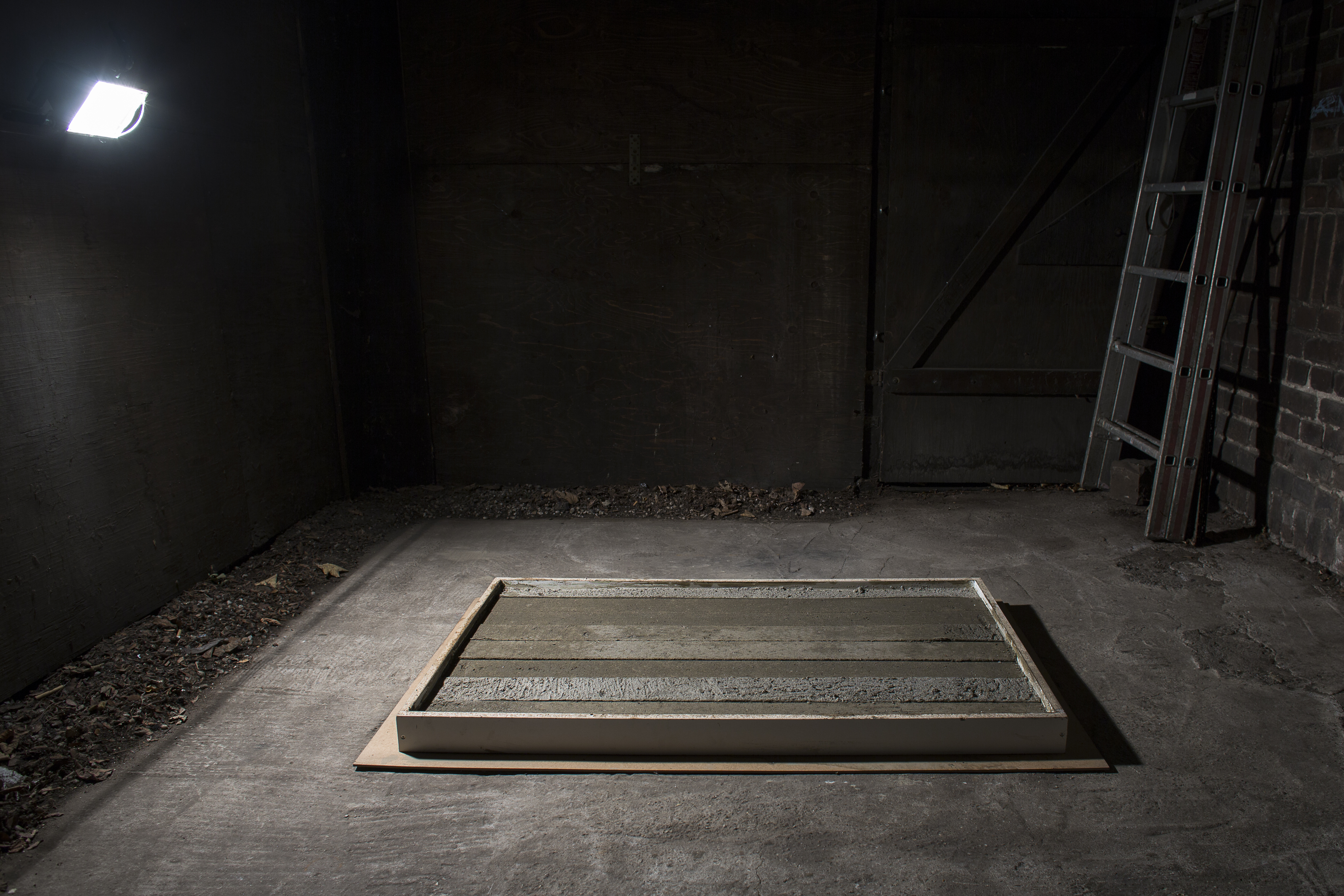 130x80x8
Eva Herrmann
130x80x8 is a durable and mobile symbolization of a world beyond time. It brings the concrete to the open air and transfers its hidden energy as a place of protection and transition into another world. 130x80x8 is inspired by the idea of the Persian carpet as an imagination of universal beauty and integrity. The raw concrete as a heterotopia of the forgotten place, as a refuge, saving from the abyss of the world. A chance of renewal.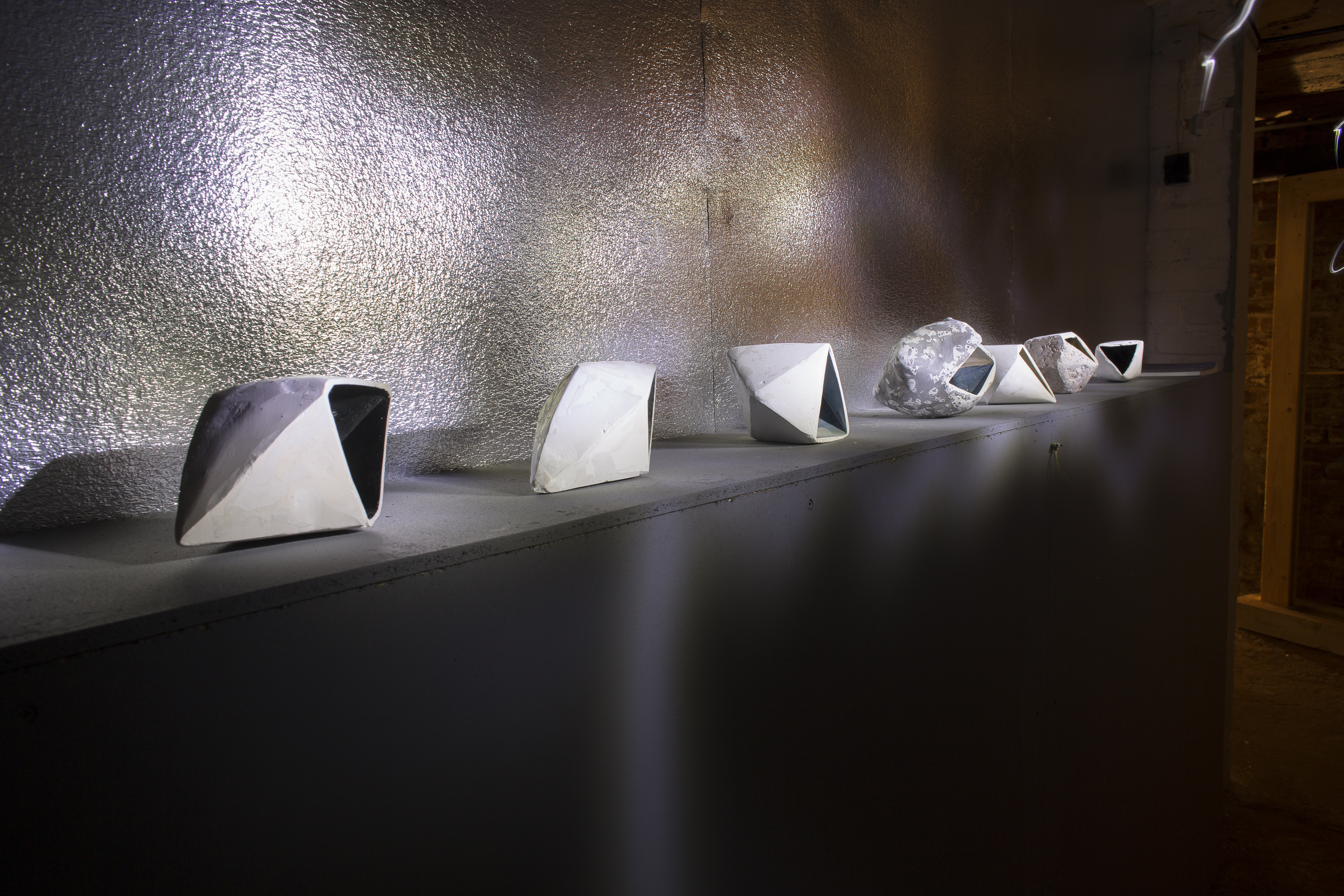 Why is the sky dark at night?
The Search for the Edge of the Universe
Anne Buescher, Julia Fischer & Lukas Maria Cober
Fascinated by endless space, its activity and phenomenon's we would like to show the visitors our research about space in 3dimensional objects. Our main inspiration is based on pictures and scientific knowledge of the universe from the last century. This led us to a collection of seven cosmic stones inspired by meteorites created out of rocks, sand and dust from different places of the earth. The crystal structure inside of each stone contains an edge of the universe that has to be discovered. The darkness inside the stones is only penetrated by the light each person holds in their hand.
"We all dwell in a house of one room – the world with the firmament for its roof – and are sailing the celestial spaces without leaving any track." (John Muir)
---
Circuit
Simon Schmitz
We had our rhythm. We adapted to it the same way our rhythm adapted to us. We performed, reached our climax,
stood still and were disoriented – just so we could align again. A circular flow, one could hardly rebel against. What seemed unconstrained, was a reflex; what you couldn't foresee was predicted.
Freud calls it "the uncanny".
Anna Maria Merkel
Body fragmentes appear from the ceiling and the ground of the bunker, as if this space had swallowed him. Obviously displaced, but still there is something ordinary that reveals a hidden strangeness, bringing out long-forgotten fears and collapsing long-established certainties.
---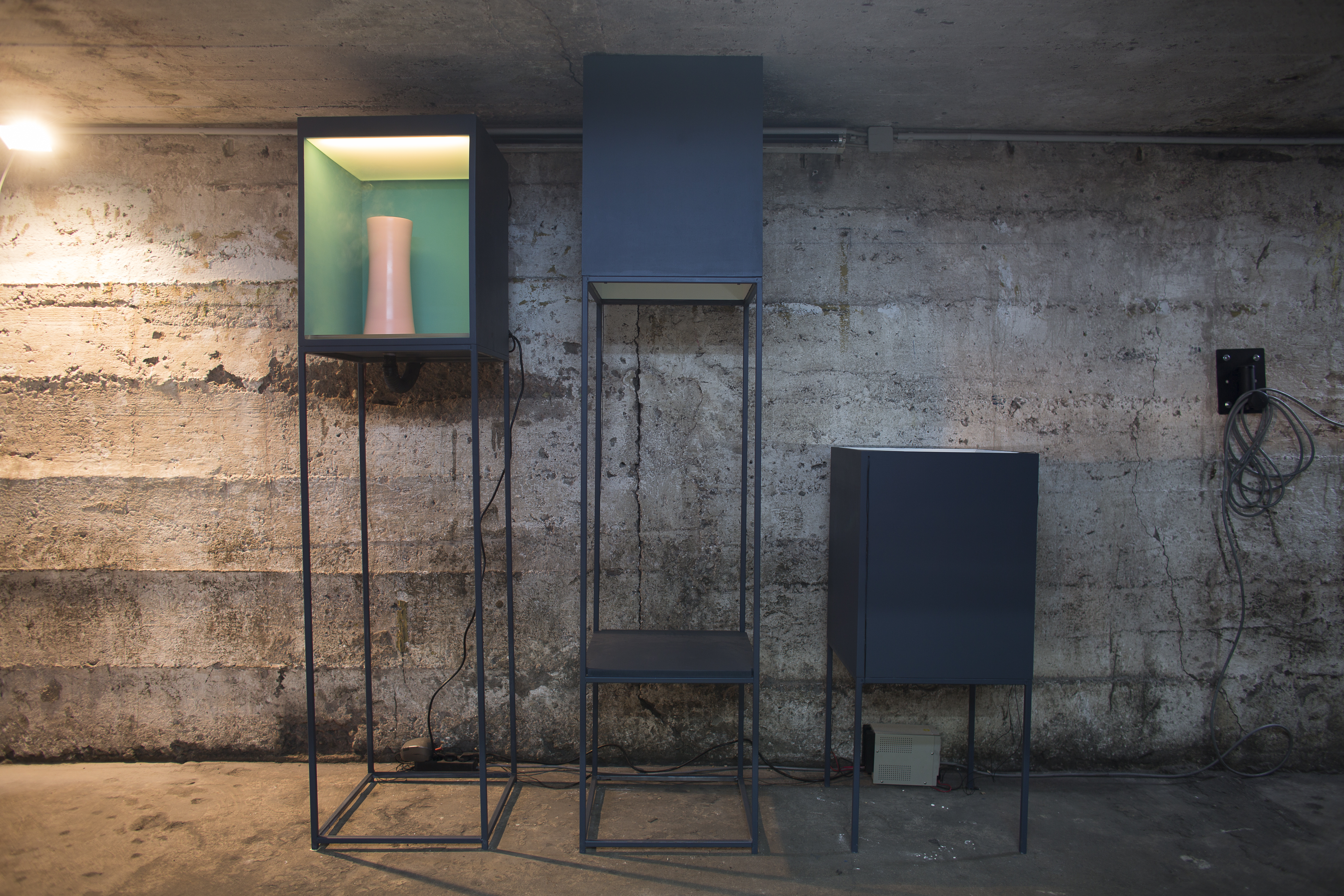 Hyperboloïde
Laura Ferriere, Adrian de Man
Hyperboloïde is a leap of imagination: boxed sceneries of one memory distorted in three steps. It is a physical representation of the way our imagination makes a remembrance age into a hyperfictional reality.
Trip into the bunker. A station in time, a cubic screen
to project your megalomaniac mind. There, we show how memories evolve under this artificial pressure, which triggers the great, the effect, the magnificent. Sentimentality, nostalgia, reminiscence, subconscious influences: how would your mind transform your past life when cut from the real world?
Look into our distortions, feel the hyper mirror.
In walls we trust
Stanley Stagart
It appears that a religious cult has developed within theconfinements of this bunker. Generations of occupants arethought to have worshiped the bunker itself as a holy entity able to bring either protection and sustenance, or open it's door to let in the exterior destruction.
---
101PS

info@101ps.space
+49 174 694 343 1

Hartwichstraße 101
50733 Cologne
Germany